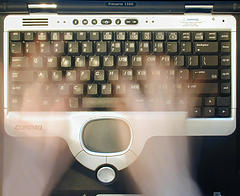 This year I have decided to buck the usual trend of fellow edubloggers, by expounding on the great things I want to do in my class. I am going to turn my gaze homeward:
I am not going to do zillions of hours of CPD nor am I going to offer my services to school on such a regular basis
I am going to spend a lot more time helping my own kids develop. My eldest is starting secondary in August and with only 18 months of English under his has a lot of work to do to be at a stage where he is not going to find his new surroundings difficult. My youngest will be starting primary and I want to help her to start to read before she goes. I would like to teach help the boys learn how to type (and maybe learn myself) and help them to use all the fun stuff I do on a computer.
So sorry school and authority, I will do that what is required of me but for once very little more...possibly
Image: Keyboard Blur by striatic