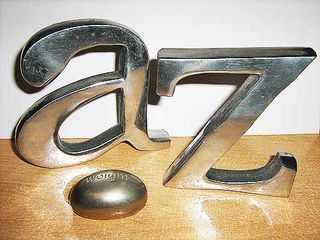 Advance apologies to those who came to this post thinking it will answer all questions about MFL teaching...it will maybe help with some.
Today 80+ mfl teachers had a chance to meet up at an in service event organised by Aberdeenshire Council, and facilitated by Pat Young who, amonst other things, is involved in the LTS Virtual Advisory Service. Pat is a very personable presenter who had some very good ideas, which she had used in her own classroom.
Her session, An A-Z of Good Practice in Modern Language Teaching, was on the face of it an excellent opportunity for real sharing to go on. Unfortunately the presentation lasted all day and could quite easily have fitted into a morning.
Lots of interesting ideas were looking to burst out but we didn't really get the time to discuss and share. In my eveluation I suggested that a future model, and probably less expensive one, would be to invite all ML departments in all the shire schools to come up with 3-5 examples of good practice in their department and be ready, in true TeachMeet style, to deliver a 7 min / 2 min presentation on them should their name appear on the Random Name Picker. Why?
teachers delivering in service to teachers is far more effective as we believe it
cost effective, only travel expenses to pay out, no consulatncy fees
every dept would have to have something prepared
get teachers out of comfort zone of sitting and listening to presenters drone on...you might be next.
should provoke discussion which could be carried on online (shock horror) afterward
Anyway, if you arrived here hoping, indeed, for an A-Z of good practice below is what the day produced. In black are those I came up with at the beginning, with very little cheating, the red is what Pat suggested. (Suggestions for others would be most welcome)
I was also asked an interesting question as well. View my enthusiasm for all things technological, whether or not I still have a place for the more traditional methods of language teaching? Of course, I answered. I do enjoy using fancy stuff but there still is time for text book work etc and I only try to use the tech to enhance my teaching and kids learning...that's the intention anyway.


A-Z of Good Practice in MFL - Get more Business Documents