Facebook friends with pupils...sorry but no.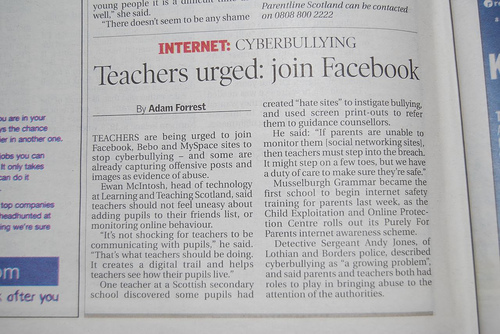 Herald on Sunday: Cyberbullying. Originally uploaded by cx1uk
I usually agree with what Ewan has to say but I don't this time with regard to becoming friends with pupils on social networking sites. Yes it could provide evidence of bullying, but when it comes down to it we are teachers and it is our job to educate not spy. We are not here to be "friends" to pupils; care, nurture, educate by all means but I feel this would be going a step too far.
It is time for parents to take more of this responsibility on board. Ollie has been doing some excellent work at Musselburgh Grammar on educating parents and teachers on internet safety. This is more how the profession should be dealing with cyber bullying.